Random questions from the 1000 plus get to know you questions in our library.

Here are 25 Random Get to Know You Questions and Conversation Starters:
What poem do you have committed to memory?

Where are you most likely to be at 8:00 on a Saturday night?

What would you buy from a thrift store?

How long can you hold a grudge?

What do you do to impress someone you are attracted to?

If you were to write a novel what would it be about?

What do you think is beyond the stars?

What historical culture fascinates you?

Are you more comfortable in someone else home if it is messy of very tidy?

How do you think the world will end?

What makes you stubborn?

Have you ever been in a food fight?

When have you performed for a crowd?

What are you looking forward to this weekend?

What in today's society do you feel should be free but is not?

What was the last seminar or training that you attended?

What would you do if you were invisible for a day?

What landmark symbolizes America?

What do you love the sound of?

What American city does not deserve a place on the map? Why?

Would you rather be hungry or thirsty?

When was the last time you felt powerless?

If you were going to skip one meal which one would you prefer to skip?

Who is your favorite female movie star?



A new get to know you question every day. Join the conversation on facebook.
Fun get to know you questions for all ages home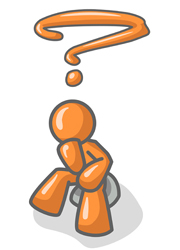 All Questions . . . <<Previous Page -Top Questions- Random Questions -Next Page>>
Page Number -1- -2- -3- -4- -5- -6- -7- -8- -9- -10-
-11- -12- -13- -14- -15- -16- -17- -18- -19- -20-
-21- -22- -23- -24- -25- -26- -27- -28- -29- -30-
Check It Out: Humor : 99 Humorous, amusing and thought provoking questions and ponderables.
Man is an animal that makes bargains: no other animal does this - no dog exchanges bones with another. - Adam Smith