Random questions from the 1000 plus get to know you questions in our library.

Here are 25 Random Get to Know You Questions and Conversation Starters:
What was a life lesson you did not appreciate until years afterward.

What is a small luxury that you treat yourself to?

Have you ever cried to get something you wanted?

What criteria do you think is most important when picking a College or university?

How old where you when you realized you are lucky?

What do you remember about your Grandmother?

Have you ever been in a food fight?

Where are your ticklish spots?

What in your life do you "do by the numbers"?

What is the ideal comfort food?

What is your favorite condiment?

What major company would you like to work for?

What makes a good kisser?

If you were to attend a costume party tonight, what or whom would you go as?

If you could break one law with impunity what would it be?

What TV re-run do you sit down to watch whenever it is on?

When have you performed for a crowd?

What turns you on creatively, spiritually or emotionally?

What book made you cry?

Critically speaking, what is the best book ever written?

What TV Show fires your imagination?

What are the perks of your job?

What is your favorite childhood picture of yourself?

Do you like short or long hair on someone of the opposite sex?



A new get to know you question every day. Join the conversation on facebook.
Fun get to know you questions for all ages home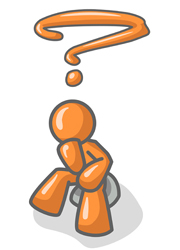 All Questions . . . <<Previous Page -Top Questions- Random Questions -Next Page>>
Page Number -1- -2- -3- -4- -5- -6- -7- -8- -9- -10-
-11- -12- -13- -14- -15- -16- -17- -18- -19- -20-
-21- -22- -23- -24- -25- -26- -27- -28- -29- -30-
Check It Out: Humor : 99 Humorous, amusing and thought provoking questions and ponderables.
A teacher who is attempting to teach without inspiring the pupil with a desire to learn is hammering on cold iron. - Horac Man