Random questions from the 1000 plus get to know you questions in our library.

Here are 25 Random Get to Know You Questions and Conversation Starters:
When does stress motivate and drive you?

If you had one wish, what would it be?

How do you know when you are in love?

When in your life have you been humbled?

When was the last time you laughed so hard you cried?

What is your favorite thing about fall?

What is your favorite picture of yourself?

If you could break one law with impunity what would it be?

What company do you think has a bad name?

Who do you wish was here?

What have you learned about talking to men vs talking to women?

What is the cheapest price you can ever remember paying for gas?

When do you have problems accepting criticism?

If you had an extra hour every day what would you do with it?

What are the perks of your job?

What investment opportunity do you feel sorry you missed out on?

What College/University did you want to attend but did not?

What is your favorite thing about winter?

When have you worked hard and loved every minute of it?

What do you like (did you like) best about being single?

In what way are you irrational?

Who is the meanest person you know?

What makes you lose your inhibitions?

Are you more comfortable in someone else home if it is messy of very tidy?



A new get to know you question every day. Join the conversation on facebook.
Fun get to know you questions for all ages home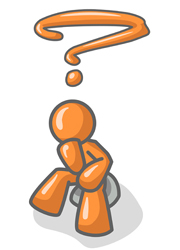 All Questions . . . <<Previous Page -Top Questions- Random Questions -Next Page>>
Page Number -1- -2- -3- -4- -5- -6- -7- -8- -9- -10-
-11- -12- -13- -14- -15- -16- -17- -18- -19- -20-
-21- -22- -23- -24- -25- -26- -27- -28- -29- -30-
Check It Out: Humor : 99 Humorous, amusing and thought provoking questions and ponderables.
I bet a funny thing about driving a car off a cliff is, while you're in midair, you still hit those brakes. - Jack Handey