Random questions from the 1000 plus get to know you questions in our library.

Here are 25 Random Get to Know You Questions and Conversation Starters:
Does love wear out in time?

What changes do you find hard to accept?

What cartoon character do you identify with?

What song do you have memorized?

When was the last time you left a bad situation?

Who is there in your life that you would take a bullet for?

What TV show are you embarrassed about watching?

If you had a 60 second Super Bowl advertisement what would you want to show a billion people?

When does stress motivate and drive you?

What is the farthest you have ever walked?

When was a time in your life when you where seeking attention?

How old where you when you had your first kiss?

What restaurant do you go to more than any other?

What three adjectives best describe you?

If you had an extra room in your house what would you use it for?

On a scale of 1-10 how honest are you?

What was the last charity you donated time, money or materials to?

Where are your ticklish spots?

Why do we expect changes in our self but find it hard to accept changes in others?

If you could vacation anywhere in the world, where would it be?

What color underwear are you wearing

When was the first time you saw the ocean?

What do you do when you cannot sleep?

When in your life has a bad experience turned out to be for the best?



A new get to know you question every day. Join the conversation on facebook.
Fun get to know you questions for all ages home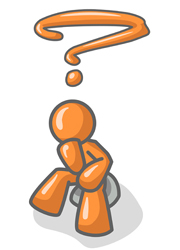 All Questions . . . <<Previous Page -Top Questions- Random Questions -Next Page>>
Page Number -1- -2- -3- -4- -5- -6- -7- -8- -9- -10-
-11- -12- -13- -14- -15- -16- -17- -18- -19- -20-
-21- -22- -23- -24- -25- -26- -27- -28- -29- -30-
Check It Out: Humor : 99 Humorous, amusing and thought provoking questions and ponderables.
I don't see your silence as a punishment, I accept it as a gift. - A.M. Levy