Random questions from the 1000 plus get to know you questions in our library.

Here are 25 Random Get to Know You Questions and Conversation Starters:
Who was your best friend growing up?

What should they have taught you in school but didn't?

How far would you drive to save $20?

What part of your morning routine do you consider essential?

When was the last time you went a church other than your own?

What is something you have always wanted to ask wanted to ask your mother but never have?

When was the last time you felt powerless?

Would you want to be famous if you could not be rich?

What is your favorite breakfast food?

What do you have that is of great value to you but of no value to anyone else?

What personality quirk will you indulge when you are old?

Do you think you lose your temper too often?

What do you think is the most difficult sport?

What song was unique to your family growing up?

Who do you love enough to cook or bake for?

Do you have any hidden talents?

What was the last thing that you lost and later found?

What Olympic sport would you like to try?

Who is there that makes you want to be a better person?

Who is your favorite female movie star?

What do you think about when there is nothing you have to think about?

If you had a 60 second Super Bowl advertisement what would you want to show a billion people?

Why do they still make black jellybeans?

What was the most rewarding travel experience that have you had?



A new get to know you question every day. Join the conversation on facebook.
Fun get to know you questions for all ages home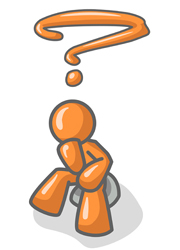 All Questions . . . <<Previous Page -Top Questions- Random Questions -Next Page>>
Page Number -1- -2- -3- -4- -5- -6- -7- -8- -9- -10-
-11- -12- -13- -14- -15- -16- -17- -18- -19- -20-
-21- -22- -23- -24- -25- -26- -27- -28- -29- -30-
Check It Out: Humor : 99 Humorous, amusing and thought provoking questions and ponderables.
There is already a mountain of evidence that Saddam Hussein is gathering weapons for the purpose of using them. And adding additional information is like adding a foot to Mount Everest. - Ari Fleischer