Random questions from the 1000 plus get to know you questions in our library.

Here are 25 Random Get to Know You Questions and Conversation Starters:
When was the first time you saw the ocean?

Is there a food you hope you never eat again?

What is your favorite salty snack?

If you were a criminal master mind, what would be your criminal racket?

What things are you shallow about?

When it comes to your money are you conservative or liberal?

Would you rather be able to visit 100 years in the past or 100 years in the future.

What is your favorite thing about fall?

Would you use pirated software?

What is your favorite national park?

What was the last thing you donated to a thrift store?

What is the origin of your last name?

When are you most generous?

If you did not need the money what would you do for work?

If you could only eat one food, and nothing else, for three days in a row, what would it be?

What are your marketable skills?

If you could go on a vacation anywhere in the US where would it be?

What is something from your life that is most likely to end up in a museum?

What commercial do you like?

Are you a lover or a fighter? Explain.

If you could remodel one room in your house what would it be?

Would you ever live in New York City? Why?

What magazine do you look for when you are stuck in the waiting room?

Would you take your bosses job if it was offered to you?



A new get to know you question every day. Join the conversation on facebook.
Fun get to know you questions for all ages home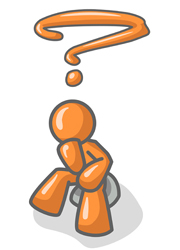 All Questions . . . <<Previous Page -Top Questions- Random Questions -Next Page>>
Page Number -1- -2- -3- -4- -5- -6- -7- -8- -9- -10-
-11- -12- -13- -14- -15- -16- -17- -18- -19- -20-
-21- -22- -23- -24- -25- -26- -27- -28- -29- -30-
Check It Out: Humor : 99 Humorous, amusing and thought provoking questions and ponderables.
It is important to have friends who will back you up no matter what the circumstances. - Archduke Franz Ferdinand