Random questions from the 1000 plus get to know you questions in our library.

Here are 25 Random Get to Know You Questions and Conversation Starters:
When you are stressed out what do you do to relax?

Do you believe a long distance relationship can work?

When was the last time you were lost?

If you were going to do karaoke tonight, what song would you sing?

What is something you have that you want to share?

If you had a time machine and you could go back and change anything, what would it be?

When was the last time you turned your mobile phone off (not just on silent)?

Who is someone that you are sorry that you disrespected?

What question should you never ask a man?

Which one of your responsibilities do you wish you could get rid of?

What is your favorite thing about winter?

What do you believe will last forever?

When was the last time you did volunteer work?

What is the most generous gift you have ever received?

What cartoon do you still like to watch?

What was the last lie that somebody told you?

What is the best thing to get to eat near work?

What was something that you could find 10 years ago but cannot find now?

What colors do you like to dress in?

If you where on death row, what would you want your last meal to be?

What makes a house a home?

What food would you starve without?

If you are feeling sad, what food or meal would cheer you up?

When in your life have you needed an alibi?



A new get to know you question every day. Join the conversation on facebook.
Fun get to know you questions for all ages home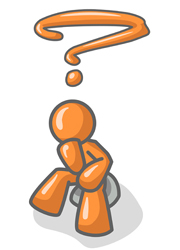 All Questions . . . <<Previous Page -Top Questions- Random Questions -Next Page>>
Page Number -1- -2- -3- -4- -5- -6- -7- -8- -9- -10-
-11- -12- -13- -14- -15- -16- -17- -18- -19- -20-
-21- -22- -23- -24- -25- -26- -27- -28- -29- -30-
Check It Out: Humor : 99 Humorous, amusing and thought provoking questions and ponderables.
With 10,000 dollars, we'd be millionaires! We could buy all kinds of useful things like...love! – Homer Simpson