Random questions from the 1000 plus get to know you questions in our library.

Here are 25 Random Get to Know You Questions and Conversation Starters:
What do you "know now" that you wish you "knew then"?

Is there a sport you love to play but hate to watch?

What personality traits do you look for in a partner?

What do you do when you have to deliver bad news?

Are you a morning person or a night owl?

What food reminds you of your birthday?

What is there about money that you do not understand but would like to?

When was the last time you said ""You Don't Understand ! ""?

What criteria do you think is most important when picking a College or university?

What major company would you like to work for?

What is the most important room in the house?

What was your first bike like?

When have you embarrassed yourself in public?

What have you learned about talking to women vs talking to men?

Would you download pirated music?

Would you volunteer to be one of the first colonists on Mars if it meant you could never return to earth?

If you could only eat one food, and nothing else, for three days in a row, what would it be?

When was the last time you turned your mobile phone off (not just on silent)?

What lessons from the bible can you use today?

What was a life lesson you did not appreciate until years afterward.

What would you like more control over in your life?

What book can you read over and over again?

What makes a house a home?

When was the last time you counted your blessings?



A new get to know you question every day. Join the conversation on facebook.
Fun get to know you questions for all ages home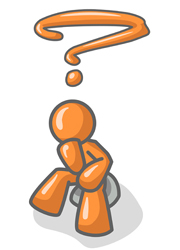 All Questions . . . <<Previous Page -Top Questions- Random Questions -Next Page>>
Page Number -1- -2- -3- -4- -5- -6- -7- -8- -9- -10-
-11- -12- -13- -14- -15- -16- -17- -18- -19- -20-
-21- -22- -23- -24- -25- -26- -27- -28- -29- -30-
Check It Out: Humor : 99 Humorous, amusing and thought provoking questions and ponderables.
Do you think God gets stoned? I think so... look at the platypus. - Robin Williams