We have over 1000 get to know you questions.
If you had it to do over again what would you study in school?

What would you like to add to your life?

What motivates you to exercise?

What is your idea of heaven?

If you were a criminal master mind, what would be your criminal racket?

What musical interments do you wish you could play?

Who is someone from your past that you are sorry you lost track of?

What is your favorite thing about fall?

What is the best food on a hot summer day?

What subject do you wish you had paid more attention to in school?

If you life had a sound track what song would you pick for it?

What music do you and you father have in common?

If you did not need the money what would you do for work?

If you had an extra room in your house what would you use it for?

What grown-up job did you want to have when you were a child?

What daily activity boars you?

In what way are you superstitious?

What is your dream job?

What is your ringtone?

Who was your best friend growing up?

What music do you hate?

What did you do during your childhood summers?

What is your favorite day of the week?

When was the last time you turned your mobile phone off (not just on silent)?




A new get to know you question every day. Join the conversation on facebook.
These questions are ideal for speed dating, first dates, second dates, third dates. It is also useful for parties, team building, corporate events. You may want to use this to spur thought when filling out your profile on Facebook, Linked In, Twitter, e Harmony, match and so forth. It is ideal  for any situation where you may need a conversation starter of fear awkward silences in conversation.
Fun get to know you questions for all ages home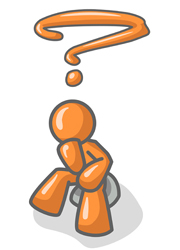 All Questions . . . -Next Page>>
Page Number -1- -2- -3- -4- -5- -6- -7- -8- -9- -10-
-11- -12- -13- -14- -15- -16- -17- -18- -19- -20-
-21- -22- -23- -24- -25- -26- 27- -28- -29- -30-

Check It Out: LifeLessons, 13 Questions that will set you apart in a job interview.
The meek shall inherit the Earth, but not its mineral rights.