Relationships Get To Know You Questions
Relationships (Romance & Friendship)

For many of us the most important thing is how we relate to others. This may be our oldest friendships to our newest spat. Of course questions of love and romance will fall in to this group. Love is infact the most powerful motivator in most people life.
Who was your first love?

What is the stupidest thing for a couple to fight about?

Who is there in your life that you would take a bullet for?

What makes you jealous?

What personality traits do you look for in a partner?

How old where you when you had your first kiss?

When you your last kiss?

What makes a good kisser?

Did you ever have a crush on one of your teachers?

Do you kiss with your eyes closed?

How do you know when you are in love?

Does your best friend call you their best friend?

When was your best Valentine Day?

When was the worst Valentine Day?

What did you do last year for Valentine Day?

Do you believe in love at first sight?

What is the worst break-up you have had?

What gossip do you like to be in on?

Which one of your friend lives the closest to you?

When have you experienced unrequited love?

Who was the last person who had a crush on you?

Do you believe a long distance relationship can work?

What is love?

Does love wear out in time?


Seek first to understand and then to be understood. The surest path to an argument is to have two people both bent on making the other one understand. In any of the relationships in life it is essential that you can put yourself in a mindset that you can see things from the other person's point of view. As you have that vantage point you are also in the best position to make yourself understood.
Fun get to know you questions for all ages home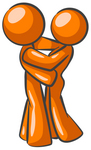 All Questions . . . <<Previous Page - Random Questons - Next Page>>
See Questions on Society or Philosophy
Check It Out: LifeLessons, 25 Question you must have an answer to before marring someone who is divorced.
Don't carry a gun. It's nice to have them close by, but don't carry them. You might get arrested. - John Gotti