Miscellaneous Get To Know You Questions
Grab Bag (Miscellaneous & Uncategorized)

We are a product of the environment we live in. It is only natural to question our society and how we relate to it. We will also examin how our society relates to the world at large. Questions on holidays are also categorized here. We also address questions of law and societies through time.
Did you ever want to change your name? If is to what?

Do you prefer sunrises or sunsets? Why?

Where is the funniest place you have ever fallen asleep.

What pet frightens you?

At what point did you life change for the better?

What do you think about when there is nothing you have to think about?

If you could see 24 hours into the future what would you do with this ability?

What is the worst physical pain you have ever been in?

What exotic pet would you like to have?

If you could have one superpower what would it be?

How do you know when you have had too much?

What is the most dangerous thing you have done?

What is your favorite season?

How do you prefer to get bad news?

Are you a morning person or a night owl?

Do you consider yourself a sore loser? Why?

When in your life have you had a "now or never" moment?

What does your signature say about you?

What is something you have always wanted to try?

What is the last thing in your life that went according to plan?

What was your first pet?

What was the first thing you ever won?

What do you hate the sound of?

What is something most people do not know about you?


"It isn't what you have, or who you are, or where you are, or what you are doing that makes you happy or unhappy. It is what you think about."
–Dale Carnegie
What do you think about when there is nothing to think about?
Fun get to know you questions for all ages home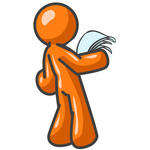 All Questions . . . <<Previous Page - Random Questons - Next Page>>

See Questions on Childhood or Work

Check It Out: LifeLessons, 25 questions you had better know the answer to before going into a job interview.

A fool and his money are soon elected. - Will Rogers