Philosophy Get To Know You Questions
Philosophy (Ethics, Philosophy & Religion)

Ultimately we all want to know what kind of a person we are talking to. What we chose to think about and how we make decisions says a volumes about who we are as a person. This section deals with questions of ethics and meaning. Religion is also addressed here all thought questions pertaining to specific religions are generally avoided. .
Do you believe there are any Ethics left in business?

If you had access to a life coach what would you want to work on?

Would you use pirated software?

Would you download pirated music?

What in today's society do you feel should be free but is not?

What are the most common lies your peer group tells?

What do you think are the characteristics that make a good friend?

Do you think you lose your temper too often?

When is it acceptable to lose your temper?

When have you felt bad about losing your temper?

What do you think is beyond the stars?

What is the nicest thing a friend has ever done for you?

Who is the meanest person you know?

Do you think "honesty is the best policy"? Why or why not?

Not counting your religion, which religions do you find interesting? Why?

If you needed someone to act as a character reference for you who would you chose?

If you had a ton of money how would it corrupt you?

Do you believe in life on other planets?

What is your best personality trait?

What is one thing you regret in life?

Do you believe in love at first sight?

What do you love about your life?

When was the last time you went to church?

When was the last time you went a church other than your own?


Seek first to understand and then to be understood. The surest path to an argument is to have two people both bent on making the other one understand. In any of the relationships in life it is essential that you can put yourself in a mindset that you can see things from the other person's point of view. As you have that vantage point you are also in the best position to make yourself understood.
Fun get to know you questions for all ages home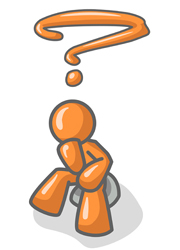 All Questions . . . <<Previous Page - Random Questons - Next Page>>
Page Number -1- -2- -3- -4- -5- -6-
See Questions on Health or Realationships
Check It Out: LifeLessons, 150 questions you need to ask each other before getting married.
I was not created to be occupied by eating delicious foods like tied up cattle. - Ali ibn Abi Talib