Random questions from more than 500 Life Lessons questions.
Top Questions- Reload Random Questions
The Life Lessons Questions are a different set of questions than the Get To Know You questions. There is some significant overlap between the questions. Some of these questiosn will be less meaningful taken out of context. Here are some random questions taken from the Life Lessons set.
Here are 20 Random Life Lesson Questions :
Who would you consider the worst date in your school?

If you could ask one person one questions and get a completely honest answer who would it be and what would you ask?

Who was your first love?

Would you rather be 100 percent debt free or have good health guaranteed for the next 10 years?

Where else have you lived?

What spiritual goals do you have?

What meals are you going to eat together?

What did you do to get pocket money as a child?

Why is 'Charlie' short for 'Charles' if they are both the same number of letters?

If you were to write a novel what would it be about?

When was the first time you stood up for your self?

If you had access to a life coach what would you want to work on?

What makes you lose hope for humanity?

Why do kids put rings in their eyebrows and nose?

If Heaven exists, what would you like to hear God say when you arrive at the Pearly Gates?

What do they use to ship styrofoam?

What is the worst sin you ever committed?

Which one of your friends has the most fun house? Why?

What prejudice do you harbor?

What cheers you up when you are sad?


Fun get to know you questions for all ages home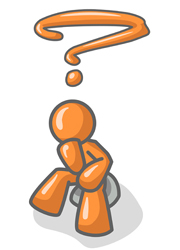 <<Previous Page -Top Questions- Random Questions- -Reload This Page




Check It Out: Humor : 99 Humorous, amusing and thought provoking questions and ponderables.

Never interrupt your enemy when he is making a mistake – Napolean Bonaparte