Random questions from more than 500 Life Lessons questions.
Top Questions- Reload Random Questions
The Life Lessons Questions are a different set of questions than the Get To Know You questions. There is some significant overlap between the questions. Some of these questiosn will be less meaningful taken out of context. Here are some random questions taken from the Life Lessons set.
Here are 20 Random Life Lesson Questions :
What is the one thing you would want to change about the other person?

How do you want to be proposed to?

If money deosn't grow on trees, why do banks have branches?

Why wouldn't you marry your current boyfriend/girlfriend?

Why doesn't the Washington Monument look like George?

What is a question you would like to ask your mother/father but never have?

When was the last time you were lost?

Can I afford to never have this money repaid?

Would you rather have $1,000,000 now or $50,000 a year for the rest of your life? (assume both sums after taxes)

What book can you read over and over again?

What do you have that is of great value to you but of no value to anyone else?

Would you rather have to load or empty the dishwasher?

What makes you afraid?

Would you rather have nine children or never be able to have any children of your own?

What is another word for thesaurus?

If you could have one superpower what would it be?

What are you most likely to become famous for?

What hobbies are too risky?

How is the Health Care provider rated?

Would you rather go to the Super Bowl or attend your child''s high school graduation?


Fun get to know you questions for all ages home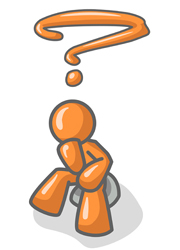 <<Previous Page -Top Questions- Random Questions- -Reload This Page




Check It Out: Humor : 99 Humorous, amusing and thought provoking questions and ponderables.

Lead, follow, or get out of the way - Thomas Paine