Random questions from more than 500 Life Lessons questions.
Top Questions- Reload Random Questions
The Life Lessons Questions are a different set of questions than the Get To Know You questions. There is some significant overlap between the questions. Some of these questiosn will be less meaningful taken out of context. Here are some random questions taken from the Life Lessons set.
Here are 20 Random Life Lesson Questions :
If money was no object how would you take a girl on a "perfect date"? Who would you go out with?

When have you had to walk away in shame?

What do you miss from your childhood?

What would you like dinner to be like in our home?

What gives you hope for humanity?

When was the most peaceful day you have had?

What national park would you like to go to?

Would you rather have the details of your romantic life be made into a hit sit-com or have every one you meet know your personal finances?

Why is lemonade made made of artificial ingredients, while dish washing detergent contains real lemons?

When was the first time you through a punch?

What is the funniest thing you have ever heard me say?

What religion other than our own do you think is interesting?

Have you ever won a trophy?

Would you rather spend a week adrift at sea in a life raft or spend on month in Milwaukee County Jail?

What was the best vacation you went on?

Who wants to sell me a car today?

What fitness goals do you have?

What do you like to cook?

Would you rather have an extra finger or lose a finger?

What do you think are the characteristics that make a good parent?


Fun get to know you questions for all ages home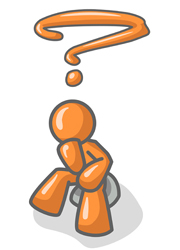 <<Previous Page -Top Questions- Random Questions- -Reload This Page




Check It Out: Humor : 99 Humorous, amusing and thought provoking questions and ponderables.

If we had had more time for discussion we should probably have made a great many more mistakes. -Leon Trotsky