Random questions from more than 500 Life Lessons questions.
Top Questions- Reload Random Questions
The Life Lessons Questions are a different set of questions than the Get To Know You questions. There is some significant overlap between the questions. Some of these questiosn will be less meaningful taken out of context. Here are some random questions taken from the Life Lessons set.
Here are 20 Random Life Lesson Questions :
If you had ten minutes on a popular TV talk show what would you talk about?

How tidy are you?

What is the process for getting a visa and how much does it cost?

What sacrifice are you unwilling to make in your career?

What family traditions are important to you that you are unwilling to sacrifice?

What is there about your boyfriend/girlfriend that embarrasses you?

What is the most romantic/loving moment of your life?

Is the interviewer the decision maker?

Can you eat swiss cheese from the inside out?

Where is the farthest you have traveled from here?

What motivates you to exercise?

How are you getting there and home again?

How is an employee evaluated and promoted?

When have you taken someone's photograph without them knowing

If you could ask God a question what would it be?

If you could trade lives with another person you know for one week who would it be?

If you had it to do over again what would you do differently?

What makes you feel insecure?

What makes you happy?

What action from you past would put you in jail if law enforcement ever found out?


Fun get to know you questions for all ages home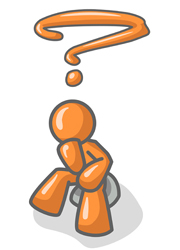 <<Previous Page -Top Questions- Random Questions- -Reload This Page




Check It Out: Humor : 99 Humorous, amusing and thought provoking questions and ponderables.

Give me golf clubs, fresh air and a beautiful partner, and you can keep the clubs and the fresh air. - Jack Benny