Random questions from more than 500 Life Lessons questions.
Top Questions- Reload Random Questions
The Life Lessons Questions are a different set of questions than the Get To Know You questions. There is some significant overlap between the questions. Some of these questiosn will be less meaningful taken out of context. Here are some random questions taken from the Life Lessons set.
Here are 20 Random Life Lesson Questions :
How will the Kids receive a new step-mom/step-dad?

If two identical twin brothers married identical twin sisters, would their kids be identical?

Who is there in your life that you would take a bullet for?

Who is there in your life that you would take a bullet for?

If you needed a Kidney, who do you think would be willing to donate one to you?

Is the company's market share growing or shrinking?

Would you volunteer to be one of the first colonists on Mars if it meant you could never return to earth?

Who will keep the family schedule?

Which one of my friends do you think is a good influence? Why?

If a word is misspelled in the dictionary, how will anyone ever know?

What cheers you up when you are sad?

Why arn't marbles made of marble?

What makes you want to fight?

What is an an example of being impulsive?

Can our relationship survive never having this money repaid?

What do you like to cook?

What song makes you want to dance?

If you could ask one person one questions and get a completely honest answer who would it be and what would you ask?

What is the funniest gift you have given?

If you had enough money to retire right now, would you?


Fun get to know you questions for all ages home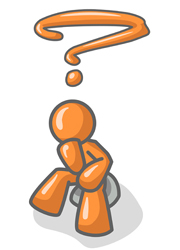 <<Previous Page -Top Questions- Random Questions- -Reload This Page




Check It Out: Humor : 99 Humorous, amusing and thought provoking questions and ponderables.

I am the one who got myself fat, who did all the eating. So I had to take full responsibility for it. - Kirstie Alley