Random questions from more than 500 Life Lessons questions.
Top Questions- Reload Random Questions
The Life Lessons Questions are a different set of questions than the Get To Know You questions. There is some significant overlap between the questions. Some of these questiosn will be less meaningful taken out of context. Here are some random questions taken from the Life Lessons set.
Here are 20 Random Life Lesson Questions :
is the company likely to be purchased or acquired?

If you could kiss anyone one in this room who would it be?

When have you seen someone else steel something?

What song makes you want to dance?

How much time is too much time to spend at work?

Did Noah have woodpeckers and termites on the ark?

What is the one thing you would want to change about the other person?

What do you use to clean soap?

What can you find out about the founder/President/CEO?

When have you seen Karma at work in your life?

What makes you feel old?

What sport do you most like to play?

If seven-elevens are always open, why do they have locks on their doors?

Where did you work before your current Job?

What do you think about when there is nothing you have to think about?

If you had to apply a label to yourself, what would it be?

What nickname do your friends call you?

Would you rather be riding coach on a trans-continental flight caught between a fighting couple or have a bee sting you on the face.

What vegetable do you hate?

What slang word or phrase is most over used?


Fun get to know you questions for all ages home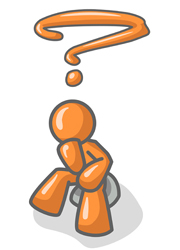 <<Previous Page -Top Questions- Random Questions- -Reload This Page




Check It Out: Humor : 99 Humorous, amusing and thought provoking questions and ponderables.

You just have to keep trying to do good work, and hope that it leads to more good work. I want to look back on my career and be proud of the work, and be proud that I tried everything. Yes, I want to look back and know that I was terrible at a variety of things. -John Steward